It was a bright shiny Sunday, a good day to spend time outside and have a good meal. My sister was in the mood to go to Kemang for a late lunch. She already told me the day before that we're going to Die Stube. I've been wanting to go there since a few years ago but never find anyone willing to go with me. I remember the first time I discovered Die Stube is because I was having dinner at Praline (just next to Die Stube), which is now closed and turned into Die Stube extension. I was so curious just to look at it from outside. For starters, it was night time and with all the lights and fairy tale-like exterior, I swear, somehow, that place looked enchanted to me. It was quiet and mysterious, I couldn't peep through the windows as they were closed. I opened the wooden
Shrek-world-like
door and found lots of German people holding their beer, just enjoying their time. It was loud inside. People were talking, getting drunk, eating.. It was a bar..
Now, since they have their extension, it's
not just a German bar
, but it's also a German restaurant. What comes to your head when you hear 'German restaurant'? Well, only one word.. maybe two instantly pop in my head. They are..
Pork
...
Knuckl
e
.. lol..
BAM! Two ladies, lots of PORK
Big sis requested her photo to be posted here.. lol
There were only the two of us so we didn't order much. Just a sharing plate of sausages and a pork chop. The only reason that's holding us back was because we were going to Publo afterwards and we were saving some room for dessert and light bites.. Oh, it turned out that you have to order the Pork Knuckle
three hours prior before you dine in
. Bummers, we couldn't taste it..
The pork chop (105k). Well, it was well seasoned but really overcooked! It was so hard, even just to cut it.. The sauce was separated in a small bowl and it was lovely.
Cream Spinach. This was a side dish to the sharing plate of sausages. I love it. From all those porkiness, at least I still had something green on my plate (even though it was smoldered with cream)
Bonanza Bockwurst Sausages with Sauerkraut (105k). I was not sure what's the meat for the sausages but it was so yummy that I simply did not care.. at all.. The sauerkraut was sour. It's basically cabbage, sort of like pickled cabbage..
I was sat on the extension side of the restaurant. It is definitely more family friendly compared to the bar. Either way, I still think it's cozy. Just pretend that it's snowing outside and you're having this great meal inside.. The whole place is decorated with Christmas ornaments as it is coming soon (uber excited for that)..
Still bummed that we didn't get to order the Pork Knucke. My sister and I came to an agreement that we will definitely go back to this place. The portion isn't as huge as other famous German restaurants (Paulaner perhaps), but I just found this place really welcoming. The staffs are great and really helpful in deciding what we want.. I am very interested in trying other menus in this place.. If you were in Kemang and craving for some pork, just drop by here.. Or simply just have a beer.. Get a drink or two to accompany your meal.. :)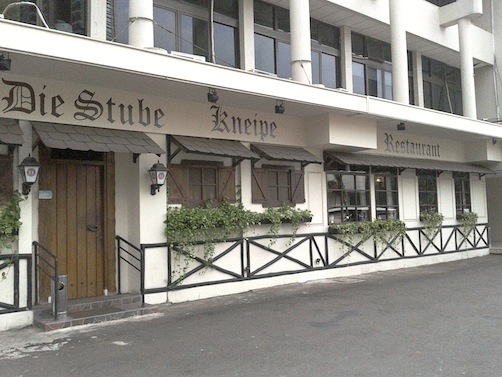 This photo was taken from Google image.. Imagine this at night time.. Reminds me a lot to Shrek!
Die Stube
Plaza Bisnis Kemang
Jl. Kemang Raya 2 Jakarta 12730
Telephone : +62-21 71793486
E-mail : diestube@cbn.net.id
Website: http://www.diestube.co.id